Rate of Price Decline Moderates in Prime Central London
Prices
Average prices in prime central London recorded a marginal rise of 0.1% in October. This took the annual fall in prices to -3.6%, the most modest rate of decline in a year, and a further sign that the price declines seen over the last 16 months have bottomed out. On a quarterly basis, prices were down 0.1% in October, compared to a 0.3% fall in the three months to September.
However, the market remains stratified, with property prices behaving in different ways depending on price bracket, geography and level of specification and amenity.
Properties worth £5 million-plus, having seen an earlier and more rapid decline in pricing than sub-£5 million properties late last year, are now recovering more quickly than the rest of the market.
This indicates that stamp duty changes are starting to become more fully assimilated into pricing in this part of the market. Average prices for homes worth more than  £10 million declined by 2.8% in the year to October, compared to a 4.8% decline for homes priced at between £1 million and £2 million.
For our most recent forecasts, please visit the research library.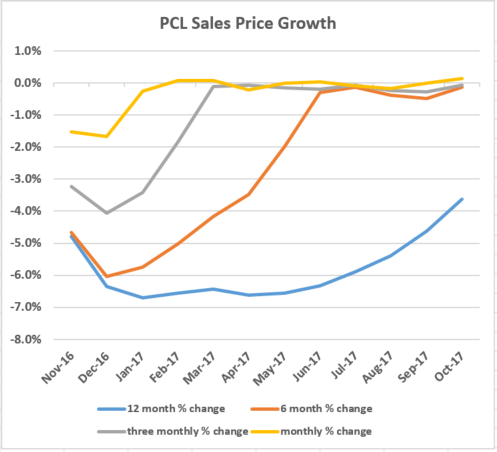 Sales volumes
A combination of higher transaction taxes and political uncertainty means demand is highly price-sensitive and the perception of value remains the key precondition for a sale.
While these factors have affected liquidity in prime central London, the market has recovered from the lows recorded in the middle of last year.
Indeed, sales volumes are up 12.4% in the three months to September compared to the same period last year, according to data from LonRes. We expect sales volumes to remain below their historical rates as existing rates of stamp duty will impact on trading volumes and general market liquidity.
Supply and demand indicators
Leading demand indicators are also positive. There was a 5.3% rise in the number of new prospective buyers registering between January and September 2017 compared to the same period last year, while viewing levels were up 10.1%.
While demand is rising, the level of new stock coming to the market has declined, further underpinning the current price trends. The number of new listings above £1 million in prime central London between January and October was down by about a fifth compared to the same period in 2016, Rightmove data shows.