Where will stamp duty reforms for first-time buyers have the biggest impact?
First-time buyers will see a large variation in saving depending on where they live.
It is increasingly difficult to define the housing market in England and Wales as a single entity. According to Nationwide, the spread of price growth over the year to September 2017 ranges from 5.1% in the East Midlands to –0.6% in London.
There are wide discrepancies between capital values as well. In London, the average price paid for a property is £471,761, nearly four times the figure in the North East at £127,213.
It is therefore worthwhile exploring yesterday's big Budget announcement (22/11/17) regarding stamp duty and first-time buyers in this context. Which areas of the market are likely to see the biggest impact, and just how large will savings for the average first-time buyer be?
By taking average price paid by a first-time buyer (based on the latest figure for September 2017 provided by the official Land Registry/ONS Price Index) for each Local Authority (LA) in England and Wales and applying the new thresholds we can calculate the average saving in stamp duty that will be made.
Looking at the map, a few points are immediately obvious.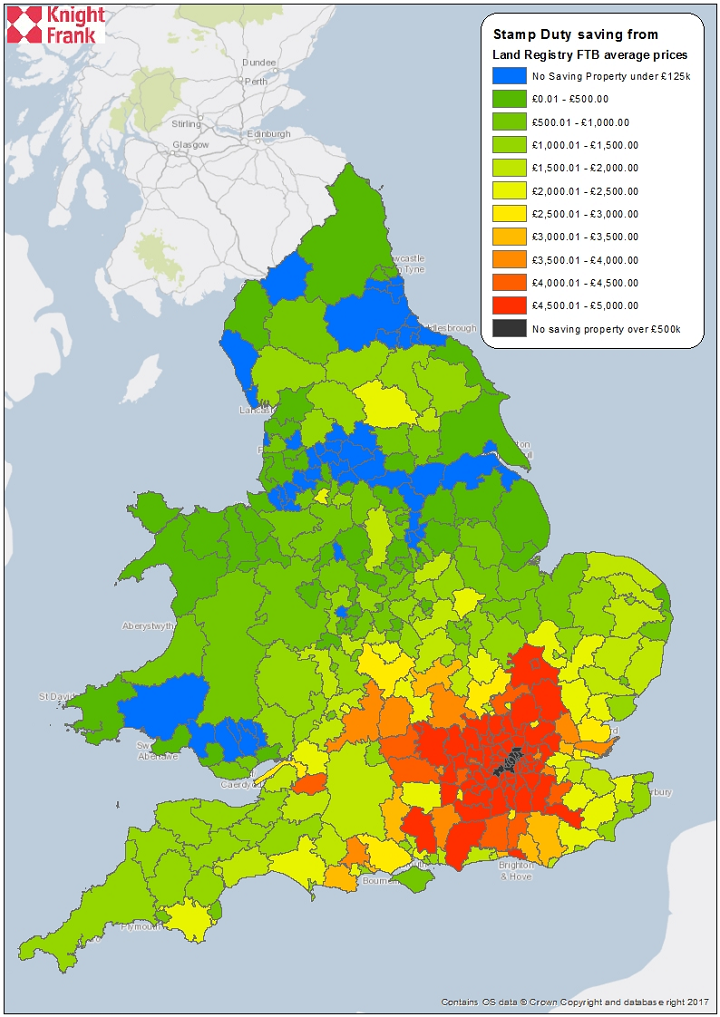 Firstly, there are two sets of areas where the new regulations are unlikely to make a noticeable difference, namely those LAs at either end of the UK house price spectrum. Where the average first-time buyer purchase price is under £125,000 (shaded in blue) and those where the average first-time buyer property is over £500,000 (shaded in black).
Secondly, the majority of first-time buyers are likely to see savings of up to £1,000, a marginal gain which is equivalent to around 1% of the property price in their area, but one that is likely to be welcomed given the challenges that many trying to climb onto the property ladder already face in saving for a deposit.
As we move closer to London and enter its commuter belt the savings inevitably rise, given higher average values, up to between £4,000 and the maximum £5,000.
Interestingly, this means that the change is likely to be good news for the newly announced "growth corridor" between Oxford Milton Keynes and Cambridge, where the government has already indicated that it wants new housing targeted.